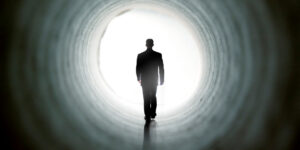 A very important question, isn't it? In a Wall Street Journal article (http://on.wsj.com/JjJvn0) dated May 21, 2012 they discuss this very issue.
I bet that you haven't given any thought to this possibility. In reality or the business continuity issues that will occur (I didn't). It's probably not in your Last Will and Testament (if you have one, and that is "a whole 'nother ball of wax"), and as pointed out in the article, you probably haven't cross-trained someone in your organization how to use or access any of the programs you currently use.
To say that it's a legal minefield is an understatement. Every state, every provider has different Terms of Use, specifying when and who may access accounts and when said account terminates (usually on the death of the owner).
As with everything else in this ever changing litigious society, you the business owner, along with your management team, legal and wealth team needs to work on this issue today, not tomorrow, because like life, you never know what tomorrow brings.
Some food for thought this summer.
SBA * Consulting LTD Wayne Spivak SBA * Consulting LTD Wayne Spivak SBA * Consulting LTD Wayne Spivak SBA * Consulting LTD Wayne Spivak SBA * Consulting LTD Wayne Spivak SBA * Consulting LTD Wayne Spivak SBA * Consulting LTD Wayne Spivak SBA * Consulting LTD Wayne Spivak SBA * Consulting LTD Wayne Spivak SBA * Consulting LTD Wayne Spivak SBA * Consulting LTD Wayne Spivak SBA * Consulting LTD Wayne Spivak SBA * Consulting LTD Wayne Spivak SBA * Consulting LTD Wayne Spivak SBA * Consulting LTD Wayne Spivak SBA * Consulting LTD Wayne Spivak SBA * Consulting LTD Wayne Spivak SBA * Consulting LTD Wayne Spivak SBA * Consulting LTD Wayne Spivak SBA * Consulting LTD Wayne Spivak SBA * Consulting LTD Wayne Spivak SBA * Consulting LTD Wayne Spivak SBA * Consulting LTD Wayne Spivak SBA * Consulting LTD Wayne Spivak SBA * Consulting LTD Wayne Spivak SBA * Consulting LTD Wayne Spivak