Business continuity is the activity performed by an organization to ensure that critical business functions will be available.  Customers, suppliers, regulators, and other entities that must have access to those functions. These activities include project management, system backups, change control, and help desk. Business continuity is not something implemented at the time of a disaster; Business Continuity refers to those activities performed daily to maintain service, consistency, and recoverability.
SBA * Consulting's extensive C-Level and Senior Managerial Consulting staff is the perfect venue to provide Business Continuity (BC) services to the market place.
Business Continuity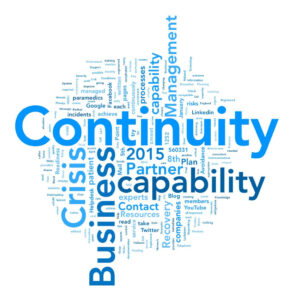 The typical BC approach is to identify, develop, acquire, document, and test procedures and resources that will ensure continuity of a firm's key operations in the event of an accident, disaster, emergency, and/or threat.  A normal BC plan looks at what is existing and what needs to be duplicated.
What the typical Business Continuity approach or Business Impact Study fails to recognize is that the systems, policies and procedures may be fundamentally flawed or inadequate under normal circumstances.  This of course has and will impact the bottom line.
So now there is an event, an accident, disaster or emergency happens.  This happenstance will trigger the need for the Business Continuity Plan to be implemented.  That very instance, the entire company and the extant systems, policies and procedures have been placed under increased stress.  In many cases, those very business rules are unable to handle the increased stress.
The current result: A great BC plan, a perfect execution and a total failure because the underlying processes are not up to the task.
SBA * Consulting feels that a 360° GAP Analysis combined with a Business Continuity and Business Impact Analysis can identify those areas that need immediate attention.  Attention will both increase the competitiveness of the organization and increase the success should an event happen triggering a Business Continuity event. These two simultaneous processes can enable your organization to survive an event that causes an interruption to the normal flow of business.
Services

Business Continuity

GAP Analysis

Business Impact Study

Disaster Recovery

Security

(Physical/Cyber/Information)

Document Management

Policy & Management

Strategic Services

Response, Planning & Support

Exercising & Auditing

Education & Training